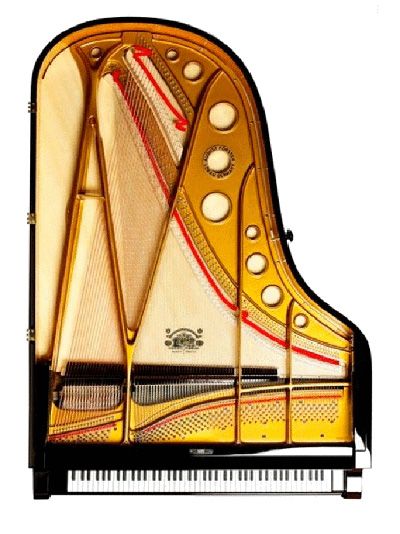 The AUGUST FÖRSTER instruments are among the very highest performance in the world, and one of the half dozen top makers which define the pinnacle of pianomaking. Each instrument is completely hand made in their 40 person factory in Löbau, Germany according to old world tradition of piano craftsmanship. The very highest quality of materials are used, from Strünz soundboards to the Renner action and hammers. A piano is not its components alone, however, and August Förster stands out even amongst the German hand-made pianos as adhering to "old world" traditional pianomaking methods and time-tested designs. The legs, music stands and lyras for the pedals are also custom carved from wood. The bass strings are wound by hand and the iron frame is prepared by hand. Each instrument is an individual work of art and has the unique "AUGUST FÖRSTER Sound".
"I've never played the August Förster grand piano before and I was very impressed. The piano has a crisp, accurate and responsive touch and is sonorous and brilliant in all registers. But the piano also has a welcome delicacy. I found it a great asset when performing pieces from Messiaen's Catalogue d'oiseaux, a work that explores all the possibilities of piano colouring, ranging from the incisive articulation of birdsong to Messiaen's glowing evocations of landscape, water, sunrise and sunset. The piano was splendid. Thank you so much."
"The conductor's suite has an August Förster grand piano that gave a particular pleasure: refined tone, excellent action and a sense that this was a piano completely at home in this beautifully designed and quality constructed concert hall. I was so comfortable with the responsive and artistically satisfying instrument."
"I must say that I am pleased as ever playing your - August Förster – grand piano. It is in points of euphony [melody] truly superior in both bass and descant. Its mechanism allows me to reach all dynamic layers of sound with ease. Also, its tuning keeps very well. I openly congratulate you, Mr Förster, and would like to tell you that you have my highest respect" Serge Prokofieff, 1937
Craftsmanship & Elegance from Löbau, Germany








Discover the August Förster Factory & Sound
Featured August Förster Grands & Uprights
All pianos are crafted 100% in Lobau, Germany.