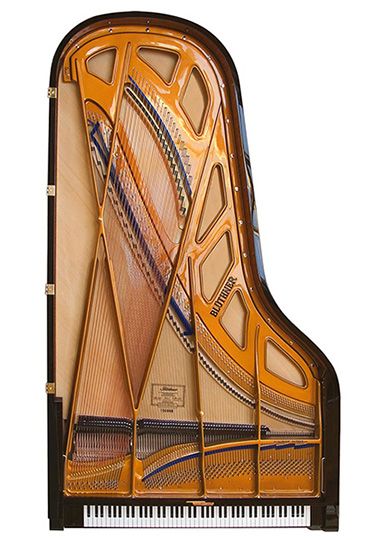 Since 1853, Blüthner pianos have been exclusively manufactured in Leipzig, Germany. To this day, the Blüthner family of craftsman and entrepreneurs continues to head the Blüthner firm and personally oversees the production of each piano bearing their name. They carry on the legacy of the founder, Julius Blüthner, to build the best pianos in the world. The highest standards of precision and craftsmanship have been achieved here for over 150 years. Today, this standard is certified on every individual soundboard by the signatures of the Blüthner family owners.
Blüthner is the piano of The Beatles recordings, including "Let it Be", and Stevie Wonder's "Ribbon in the Sky. Debussy, Rachmaninoff and Sir Andrew Lloyd Weber composed on their Blüthner pianos, to name a few.
Blüthner has also been commissioned to recreate the iconic deisgner piano by Poul Hennigsen. Each Blüthner piano is a unique creation marrying exceptional acoustic performance with aesthetic perfection.
"I have never played a piano that has inspired me the way my Blüthner has. This is the sound I had always dreamed of, this is what I hoped a piano could do."
I fall in love with every Blüthner piano I play - not only for its rich warm tone but for the range of colors in every note. That is where the magic is."
"This Blüthner had the most beautiful singing tone I had ever found. I became quiet enthusiastic and decided to play. The piano inspired me. I don't think I ever played better in my life."
Craftsmanship, Performance & Design
Blüthner Factory and Artist Videos
Blüthner Models and Customization
As a hand-crafted artisan instrument, Blüthner offers unparalleled performance with limitless aesthetic design options