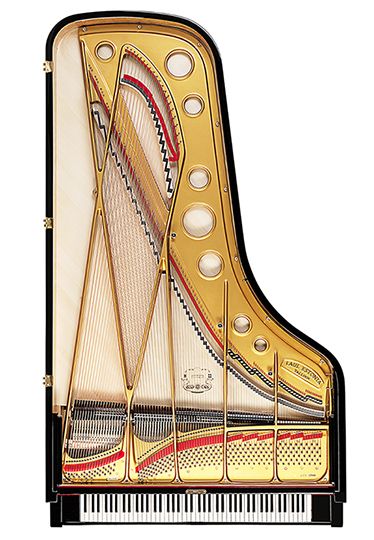 With a tradition of hand craftsmanship dating back over 120 years, the modern Estonia piano has sprung into the limelight in recent decades as a major contender in the performance piano arena. The praise from seasoned piano technicians and pianists alike has been resounding.
Each Estonia grand is the result of the choicest woods and materials, exceptional scale designs, and the keen work of the season craftsmen who build them.
"Tonight I had the privilege of playing the ESTONIA Grand Piano. It is a beautifully made instrument whose craftmanship speaks for itself in its feel and sound. It has a lovely touch, a dark rich color, and a lyrical voice which invites music making at its best, all at a price unheard of for such quality. I look forward to my next opportunity to play an ESTONIA."
"Today's ESTONIA has its own sound sound-personality and shares the psychology of Steinway and Bösendorfer."
"As a new owner of an ESTONIA piano, it has been a real pleasure to work on such a fine instrument and I am sure that the musical fulfillment I am experiencing will grow over the years. The level of craftsmanship in the ESTONIA piano can only inspire the highest respect and I have no doubt that this piano will continue to prove essential to sensitive musicians."
"It is a marvellous experience to have discovered two of the ESTONIA pianos (especially the 190). The warmth and richness of the sound is deeply touching, they are instruments with noble acoustic properties, and a speaking psaltery tone. I wish a great success to these instruments in the coming years. I have no doubt about their success, for a lot of pianists will find in this instrument the sound that has so much disappeared since the grand's period of the beginning of the century."
"After having had the great opportunity of giving Master Classes on two Estonia Grand pianos in Montepulciano this summer, it was particularly enjoyable to visit the factory and to admire the "old-style" ( and therefore remarkable) workmanship displayed in your instruments. I certainly wish you many centuries of piano-making - so that we poor pianists may continue to enjoy the fruits of your efforts. Keep up the good work."
"Here it is very apparent the distinction from other world big companies, in that this is not a purveyor of wooden or metallic products, but an instrument of the warmth of hands and human soul. Therefore, it sounds great and meets all professional requirements."
"I have owned and played ESTONIA grand pianos for many years. These fine instruments are built in the best European tradition, combining superb tone and touch, hand crafted of the highest quality materials. I am confident an ESTONIA piano would make a treasured addition to your home. It is gratifying for me to recommend the ESTONIA piano - one of the best kept secrets in piano-making today."
Featured Estonia Grands from our Showrooms
Estonia Piano Factory & Sound