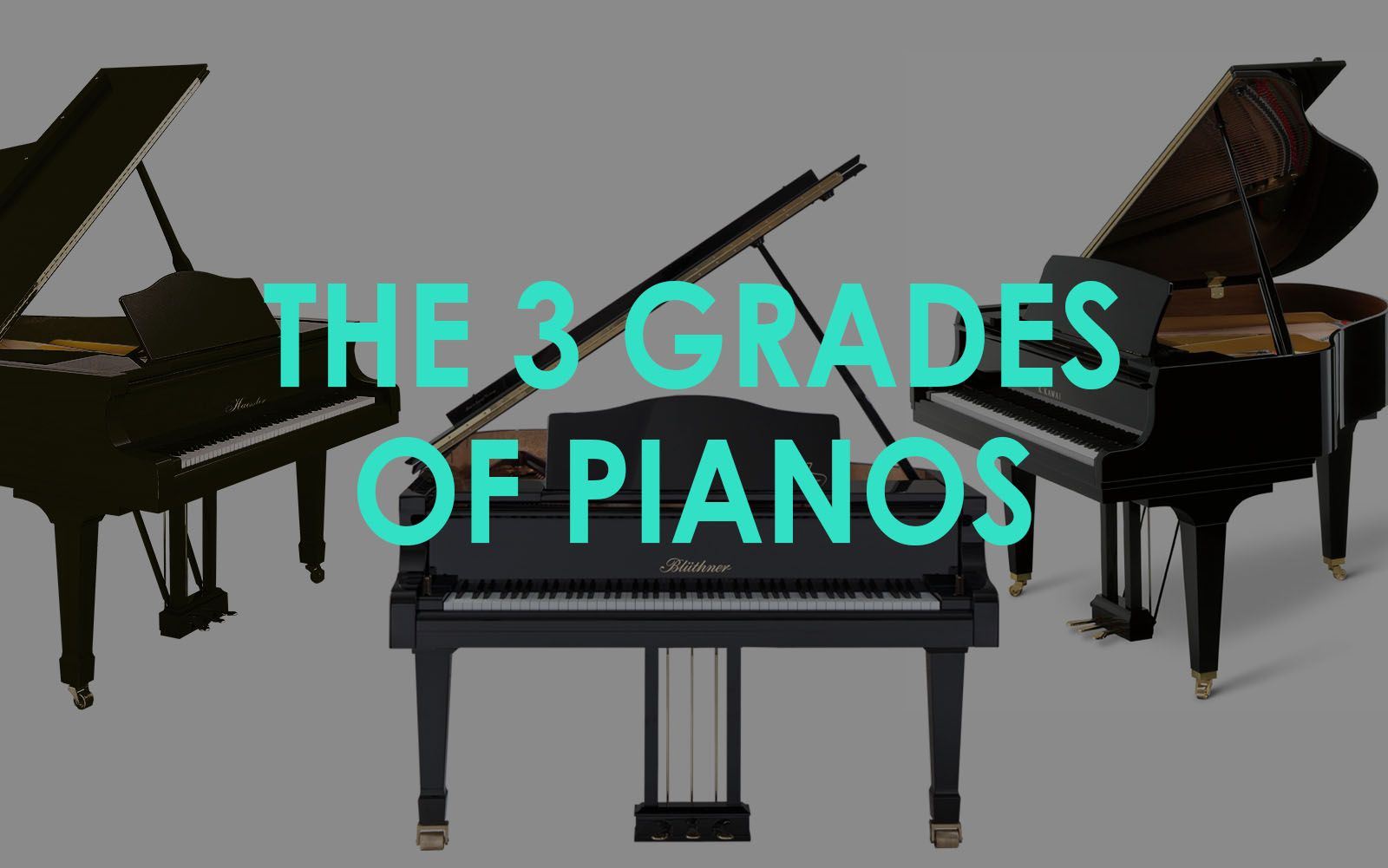 Consumer-Grade v. Intermediate-Grade v. Performance-Grade
So you've decided to buy a piano. Congratulations on your first step in being the coolest kid on the block. But whether you're Lang Lang, or someone that's brand new to the game, there are indeed many things to consider before taking home an instrument that suits you. Today we'll discuss options for beginners, as well as those who are ready for Carnegie Hall. In short, there are levels to this.
Consumer-Grade
Buying a piano for your child who is just starting out? Or perhaps you're trying to do your best Alicia Keys impression but are tired of being chased out of hotel lobbies for touching their display pianos. Well, there is definitely an entry-level choice for you out there.
Consumer-grade pianos are constructed with price-conscious players in mind. Sure there are some compromises in materials, craftsmanship, and location of manufacturing; but a company's reputation and track record for durability and reliability will also play an important role. In fact, most players shopping in this price range will place a significant amount on the aforementioned criteria, rather than the instrument's actual tonality. Many will gravitate towards a household name they recognize, and go from there. It's a good start.
At Kim's Piano, we help you get into the best Consumer-Grade piano, including:
Kawai GE/ GL grands and Kawai Indonesian-made uprights, Yamaha G/ GC grands and Yamaha Indonesian-made verticals, Johannes Seiler, Wm. Knabe, Pramberger, Weber, and the Brodmann PE series
Intermediate-Grade
Ok. You nailed the performance at your last recital and can feel your passion for tickling the ivory grow exponentially. You know that it's time for an upgrade, but can't yet justify selling your good kidney for a 9-foot concert grand piano. Welcome to the intermediate range.
Pianos with the label of "intermediate-grade" are actually the result of manufacturers not being able to properly classify higher-end instruments from consumer-grade makers, as well as high-end makers producing more affordable instruments. Technology and automation had improved such that these consumer-grade manufacturers began sourcing materials worldwide in order to bring to market higher quality models that defy the previous two-grade system of Consumer vs. Performance. Pianos in this class can also come from "lesser" product lines from European manufacturers previously known exclusively for their performance-grade models.
At Kim's Piano, we've got your Intermediate-Grade pianos covered, including W.Hoffmann, Kawai RX/GX grands and Japanese uprights, Yamaha C/CX grands and Japanese uprights, Irmler, and the Eduard Seiler.
Performance-Grade
You've decided that this is more than just a hobby. You picture yourself on stage, with the heat of the spotlight blazing across your forehead while you sit, hands at the ready. You're poised to take that next step and need an instrument that will accompany you to the top. Or, you just like really nice things. Either way, a performance-grade piano can be the centerpiece of your musical journey.
While there are different sub-categories within this tier, ranging from "High Quality" to "Highest Quality/Prestige", pianos in this range share some key attributes:
High standard construction, without regard to manufacturing cost
Handworked, providing custom refinement and fanatical attention to detail
Small quantity production by makers with reputations that span generations
Instruments typically called upon for the highest levels of performance
At Kim's Piano, you'll find the most extensive collection of Performance-Grade piano makers in the country, including C. Bechstein, Blüthner, August Förster, Shigeru Kawai, Mason & Hamlin, Seiler (Germany), Bösendorfer, and Steinway & Sons.
With this knowledge in mind, you're now better equipped to make one of the best decisions of your life. But regardless of the level of player that you are, or whatever grade piano you choose, just remember to practice! Or at least dust off the darn thing every now and then.
Popular Posts