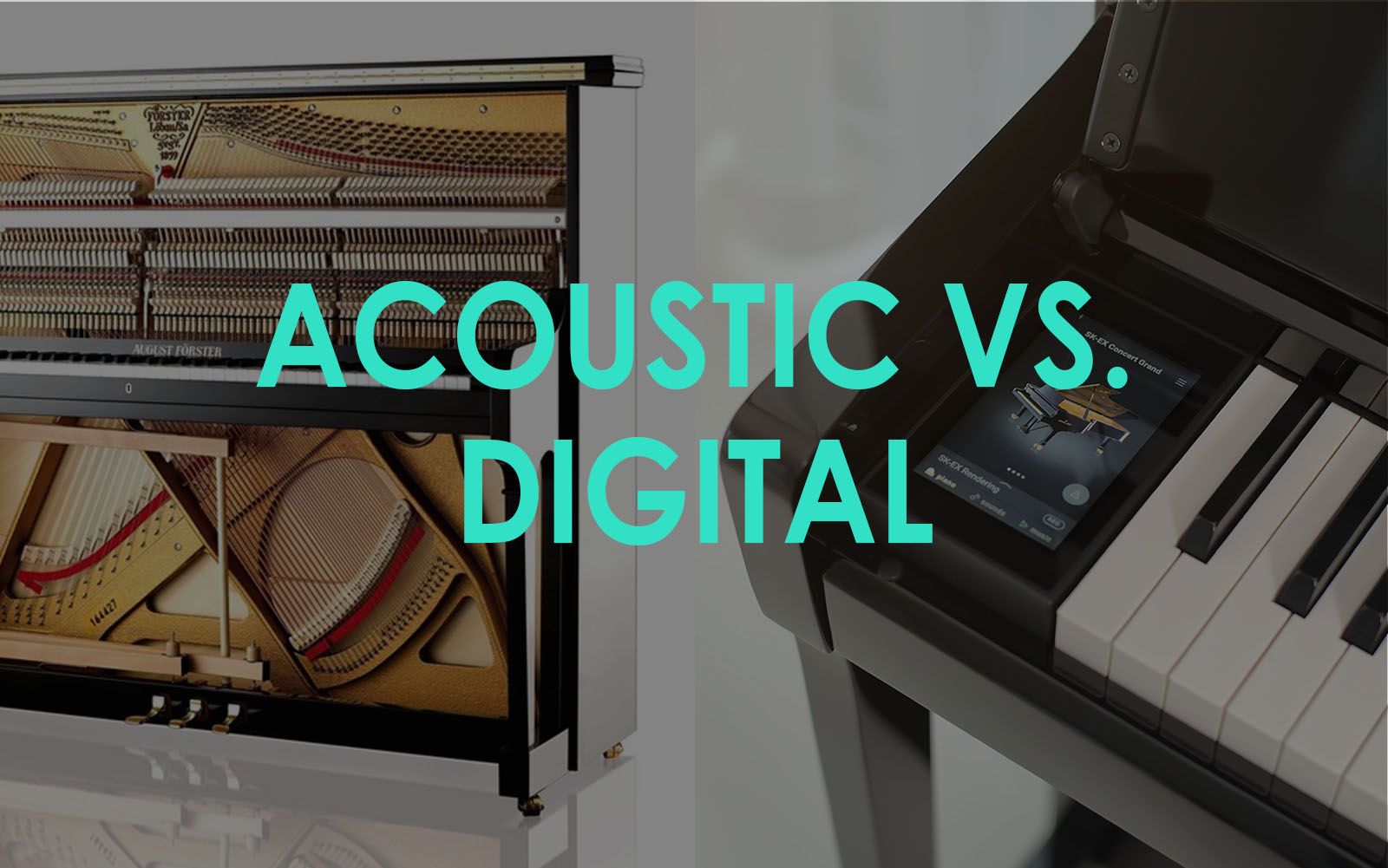 Acoustic vs Digital
Acoustic or digital? Upright or grand? Team Edward or Team Jacob? Life is full of tough choices. Choices often don't come down to right or wrong, but rather what fits your specific needs. Do you need the unmistakable feel of an acoustic piano or the flexibility of a digital? Can you fit a 6-foot grand piano in your home, or does your Los Angeles apartment barely have space for an upright next to your kitchen/bathroom? And do you prefer brooding vampires, or thoughtful werewolves? For most mere mortals, "both" is not a viable option.
And while these are all important questions, today we'll examine some key attributes between your traditional acoustic piano, and its more modern, digital counterpart.
Within the acoustic umbrella are grand and upright pianos – the difference in these is another can of worms that we shall open up at a different time. For now, we'll focus on the general characteristics of an acoustic. For example, while technology is improving within digital products to emulate the acoustic's more "natural" tonality, nothing can quite replicate the sound of notes being coaxed from the felt of a hammer striking a string and resonating from the soundboard. This mechanical process simply does not exist in a purely digital piano. Furthermore, experiencing the harmonics, overtones, touch/vibrations of the keys, and how all of these interact with your surroundings, is just too complex to be simulated by digitals. And we haven't even mentioned the aesthetics yet. Nothing can beat the sight of a fully-open grand piano as the focal point of any room.
Now of course there are some downsides. For instance, the cost for an acoustic piano is generally higher, they are more difficult to move and typically take up much more space. Also worth mentioning is the tuning and upkeep required since acoustics are susceptible to fluctuations in temperature and humidity. These general maintenance costs could potentially add up to hundreds of dollars a year. And unlike digitals, an acoustic piano can only sound like… well… a piano.
Enter the world of digital pianos. Flexibility and portability are the two main differentiators. While that baby grand in your living room sure is nice to look at, you can't exactly pack it up and take it with you to your next gig. And while it sounds more natural and organic, it can still only sound like a piano, nothing else. But with digitals, they can be designed to include upwards of a thousand different sounds (organs, harpsichords, strings, etc.). And ones that have MIDI capabilities (a way of communication between digital interfaces) can be infinitely programmed. So, if you're a composer who wants to take your produced beats on the road, a digital piano just might be what you're looking for. Current ones have the ability to make anyone sound like an entire orchestra or band. And recording is also made simple. Sure there are certain dynamics that are not present when compared to an acoustic piano. But if the ambient sound is an issue where you live, being able to plug directly into your computer is a great solution to cut out the background noise when laying down your latest track. Add to this the typically lower cost and lack of maintenance expense, and the digital piano starts to seem like a very practical choice.
They are definitely not without their disadvantages, however. The biggest, and most glaring one is the previously mentioned, tone. Digital pianos certainly do a good job of electronically recreating the familiar sounds of the keys, but can never fully replicate them. The amplified speakers within a digital just cannot physically reproduce the sound of a hammer striking a string. It's science (Ron Burgundy voice). And this is totally fine – that's not what it was designed to do. Also up for debate is the life expectancy of a digital piano. Acoustics can last generations, with the ability to rebuild most models at any given point in their lifespan. But as with any electronic device, digital pianos are inevitably prone to failure after some passage of time, and can steadily lose value due to the introduction of newer technology. In contrast, a well-maintained acoustic piano can easily hold its value depending on the condition.
So, those are the basics! Whether you're composing your next concerto or trying to produce an electronic dance hit, there is definitely a piano out there for you. And with our huge selection of both acoustics and digitals at Kim's Piano, our experts can match you with the instrument that perfectly fits your needs. Now if only choosing what to eat tonight was that simple…
Popular Posts